Shamrock is known as a symbol of Ireland, with St. Patrick having used it as a metaphor for the Christian Trinity, according to legend. Moreover shamrock was traditionally used for its medicinal properties. In order to accomplish our mission we named our clinic "Trinity Neurology Clinic" and adopted shamrock as our symbol.
Our mission is supplying good health care in order to harmonize:
Patient and family must be treated together as one unit.
Patient must be treated under tight collaboration between medicine and care.
Our clinic aims to cooperate with hospitals and home care clinics to offer continuative medicine and care.
Cooperation administrative institutions
Cooperation home care clinics
Kazeno-mura Sakura Home-visit Clinic
Director of Trinity Neurology Clinic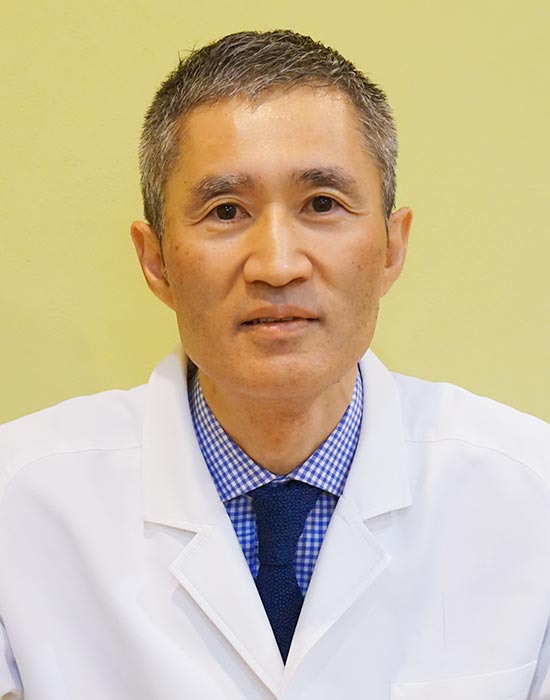 Clinical Professor, School of Medicine, University of Chiba
Part-time instructor of Toho University
Message from the Director
We opened Trinity Neurology Clinic in Sakura on December 3rd 2012 after sufficient training in neurology and cerebrovascular medicine at certified institutions including Chiba University Hospital, Japanese Red Cross Narita Hospital, Matsudo Neurology Clinic and other institutions. We not only treat neurological disorders but also cooperate with hospitals, clinics, care providers and administrative organs to offer sustainable and long-term treatment for each patient.
EDUCATION
M.D. (1995) Okayama University School of Medicine, Okayama, Japan
Ph.D. (2002) Chiba University Graduate School of Medicine, Chiba, Japan
LICENCES
Physician's license, Japan, 1995 (#366591)
BOARD CERTIFICATIONS
Board-certified, Japanese Society of Internal Medicine, 2001 (Recertified, 2005, 2011, 2017)
Board-certified, Japanese Society of Neurology, 1999 (Recertified, 2004, 2011, 2014, 2019)
Board-certified, Japan Stroke Society, 2005 (Recertified, 2009, 2014, 2019)
Board-certified, Japan Society for Dementia Research, 2016
Board-certified, Japanese Headache Society, 2019
PROFESSIONAL SOCIETIES
The Japanese Society of Internal Medicine (Member), 1995-
The Japanese Society of Neurology (Member), 1995-
The Japan Stroke Society (Member), 1997-
The Japanese Association of Neurological Therapeutics (Member), 1995-
The Japan Society for Dementia Research (Member), 2013-
The Japanese Headache Society (Member), 2016-
American Academy of Neurology (Member), 2015-
Medical Diagnostic Apparatus
Magnetic Resonance Imaging (MRI) Scanner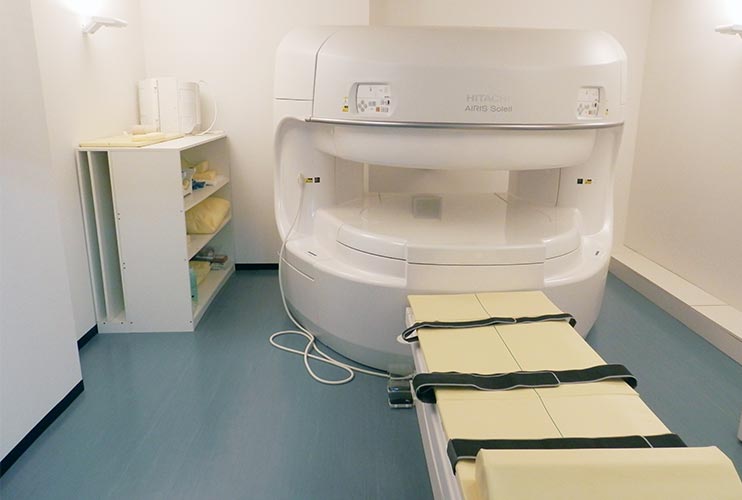 MRI makes better images of organs and soft tissue than other scanning techniques, such as computed tomography (CT) or X-ray. MRI is useful for imaging the brain and the spine, especially for diagnosing cerebrovascular disease. In addition we often find causes of neurological symptoms like parkinsonism, dementia and so on with MRI scanner. Therefore, we opened our clinic with a MRI scanner.
Ultrasound Scanner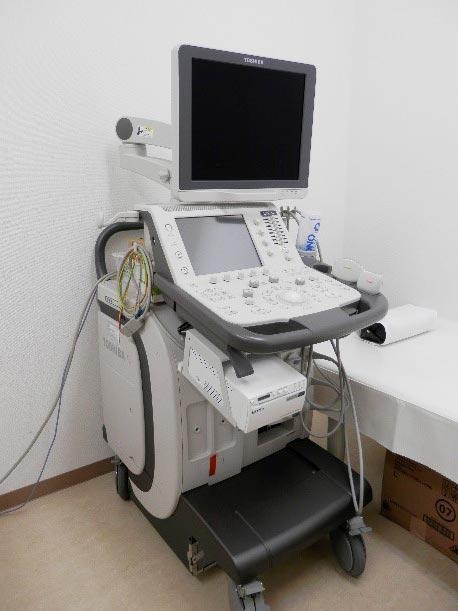 An ultrasound scan is a painless examination that uses sound waves to create images of organs and structures inside the human body. As it uses sound waves and doesn't use radiation, it is thought to be harmless. Doppler and duplex scans are used to visualize blood flow through the body. We mainly use it as carotid ultrasonography to identify arteriosclerosis in patients.
Carotid ultrasonography is an ultrasound-based diagnostic imaging technique to reveal structural details of the carotid arteries, as we can look directly for blood clots, atherosclerotic plaque buildup, and other blood flow problems.
Of course we can also check thyroid, heart, abdominal organs and vein of lower extremity with it.
X-ray imaging system
We introduced Computed Radiography (CR) system so that we can result in lower overall radiation dose to the patient.
Electrocardiogram (ECG)
We installed multifunctional ECG, with which we can also access the degree of artery stiffness.
Neurologist's Consultant Visits (NCVs)
We visited patient's homes according to the requests of home care clinics.
Neurologist's Consultant Visit in a home care clinic
Days

13 days (January to December, 2009)

Home visits

72 visits (average 5.5 visits/Day)

Patients

37 patients (34 of 37 were neurological diseases)
*These 37 patients were selected from 233 patients receiving GP visits from Aozora clinic on January to December 2009.
Details about 34 neurological diseases

Needs of neurologist for patients seen in home care clinics
They could not go to clinics after disease progression mainly due to mobility problems (ex. ALS on tracheotomy ventilation)

15

They had become disabled without chance to receive neurologist's examination
(ex. Hydrocephalus in nursing home for dementia)

4

They could not receive neurologist's examination because of their severe disability
(ex. Delayed-onset dystonia after hypoxic brain damage being longstanding bedridden at home)

9

Their diagnosis changed because typical symptoms had appeared after disease progression
(ex. Corticobasal degeneration diagnosed ALS at first)

4

Others

3
Benefits of NCVs
Neurologists can understand the Lives of patients with long term neurological diseases

With home visits, neurologists can understand patient's daily lives, never seen in clinics or hospitals. As many neurological diseases are long courses, these diseases have already become important pieces of patient's whole lives. It is, therefore, important for neurologists to understand patient's daily lives. NCV helps neurologists to understand the connections between patient's lives and neurological diseases.

Home care clinics are assured Specialty of neurology

They can receive advice from neurologists about medication and care. They can also receive the diagnosis of neurologists after neurological examinations at home.

Patients can keep Continuity of human relations with physicians

Patients have the benefit of not only receiving neurological examinations, but also keeping continuity of human relations with same neurologists. Patients with long term neurological diseases (LTND) have been living their lives together with these same neurologists.
Before

NCVs

After

NCVs

Mail Group Service
We create mail groups after service staff meetings on e-mail system, which include patients,families, care managers and other professions. Mail group systems enable us to immediately share information and anticipate problems about patients and families.